A jewel at the southern end of Africa
By
Anton Venter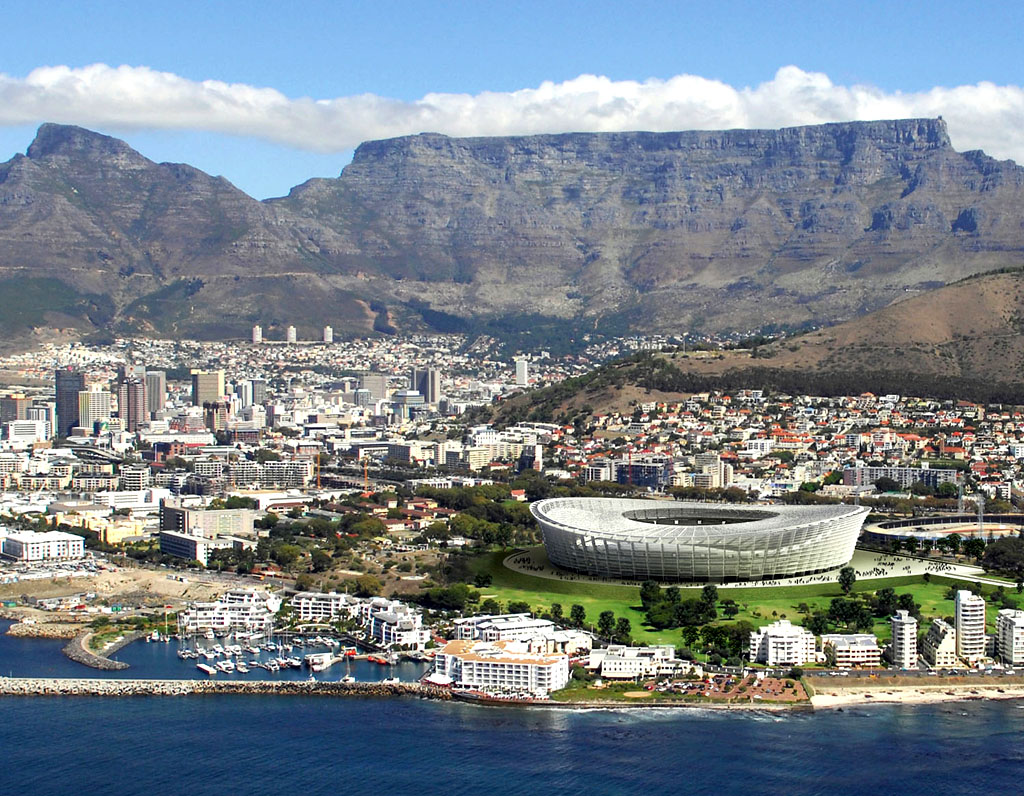 Cape Town is the capital of the Western Cape province of South Africa. The city is the country's most popular tourist spot with pristine white beaches arranged around a peninsula. Restaurants offer international cuisine with local flavours added to the mix. Accommodation is available that suits every budget from backpacker to jet-setter.
Cape Town is the southern point of South Africa where the first settlers landed in 1652 to start the long journey of the country's development. The city is not the actual dividing point between Atlantic and Indian Oceans. That honour goes to Cape Agulhas, further south from Cape Town. There are a number of museums that depict Cape Town's unique history. Many buildings have been preserved over time and those who appreciate historical architecture will not be disappointed.
The 2010 World Cup Soccer resulted in an upgrade of sport stadiums that included Cape Town. The event united the cultures of Cape Town. It showed that black, coloured, white or any colour in between can forget about their differences and make the city a place where tourists feel welcome and safe.
Wine lovers who visit Cape Town are in for a treat. The wine regions around the city are all within five to thirty minutes' drive from the city. These regions include Durbanville (within Cape Town area) and regions outside the city, e.g. Stellenbosch, Paarl and Somerset West. All these wine farms offer tastings and many of them have also opened some of their vineyards to mountain biking with trails that vary from easy to strenuous.
The long list of restaurants represents cuisine from almost every country in the world. Some restaurants specialize in local cuisine (African, Cape Malay and Afrikaans) and their ambience is often enhanced by music and even dancing.
African menus typically include red meat, game, chicken and "pap" (porridge) with gravy. These restaurants can be found in well-heeled tourist spots as well as townships. Barbequing is a favourite pastime on weekends, combined with beer drinking and watching sport like rugby. You'd be hard pressed to find anything but red meat and sausage on those barbeque grids. An alternative to the grid is a "Potjie", where a pot is hung over coals to slow-cook a stew of meat and vegetables. Other popular Afrikaans and Cape Malay foods include Bobotie (a kind of meatloaf) and Chakalaka (a garnish of Indian origin). Some of the desert favourites are Koesisters (twisted pastries) and Milktart.
Seafood features well on Cape Town's menus. A variety of shellfish and line fish is available at most restaurants. Traditional local ways of processing fish are "Bokkoms" (dried and salted fish) and smoked "snoek" (a local fish snubbed by some due to its many bones but very tasty when smoked).
Open-top busses will take you to most tourist spots on the peninsula. Specialised tours are available to the "townships" where low-income housing can be seen with small businesses thriving on the streets. No visit to Cape Town will be complete without a trip up the cable car to the top of Table Mountain, the iconic feature of the city. From here you have views that compare with those of the world's most spectacular cities. The Victoria and Alfred waterfront has departure points for a selection of boat trips around the main harbour and out to beaches such as Clifton. Another favourite destination for a boat trip is Robben Island. There you will find a museum that commemorates the years when there was a fully functioning prison on the island with Nelson Mandela its most famous inmate.
In addition to the standard bus service, the city is phasing in a brand new rapid transport system with dedicated lanes for buses. It has not reached all suburbs yet, but already includes a route from the airport into the city centre. Metrorail trains run only on major routes around the city, but outlying stations include Stellenbosch, Paarl and Somerset West.
Minibus taxis provide a cheaper alternative to regular sedan taxis, but their courageous drivers may not be for the faint-hearted. Some locals are uncomfortable with minibus taxis, but they're safe as long as they are used within regular hours. Minibus commuters have adopted a unique sign language for hailing a taxi. Using only one hand they communicate with the "gaatchie" (conductor) of an approaching taxi about its route and destination to ensure it's the one for them.
Cape Town has some interesting outings for nature lovers. Two of these are within twenty minutes' drive from the city centre. The World of Birds is situated in Houtbay, a vibrant fishing village on the western side of the peninsula. You can stroll through the largest bird enclosure in Africa, carefully watched by owls. Butterfly World is near Klapmuts, north-east of the city. Here you can mingle with free-flying butterflies within safe distance from scorpions and spiders.
Within thirty minutes from the city on the southern side of the peninsula, by car or a scenic train route right next to the ocean, there are the quant fishing villages of Kalk Bay and Fish Hoek. There is a good variety of restaurants in Kalk Bay, the most popular being the Brass Bell, which over the years has developed into a hot spot for younger people where you can choose from six dining areas that range from formal to informal. Those interested in antiques and books should reserve at least half a day to browse the shops in Kalk Bay.
General information
All banks are open Monday to Friday 8h30 to 15h30 and Saturday mornings. Some banks are open on Sunday mornings. ATMs are in abundance. Temperatures vary between 13° and 28°C through winter (May to August) and summer (September to April). Tap water is safe to drink. English is spoken everywhere while some locals speak Afrikaans, the language that has its roots in Dutch.
As far as security is concerned, the same international travel rules apply in Cape Town. Don't have valuables on display and don't venture into suspect areas late at night.