Johannesburg (Egoli – City of Gold), South Africa
By
Vivian Pitschlitz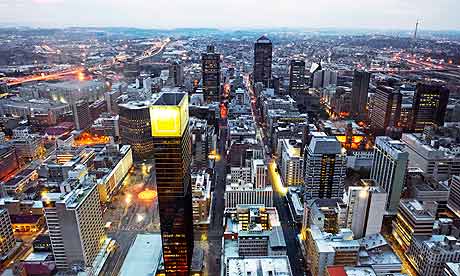 Johannesburg (Joburg), South Africa is one of the largest and highest inland cities in the world. Due to being high Joburg has spectacular lightning storms. Visitors to our city are often a bit alarmed by the lightning but very few people have ever been struck by lightning. Joburg is the largest city in South Africa and is thought of as the business centre. As Joburg has the biggest international airport in South Africa most tourist fly to OR Tambo Airport first. They usually take a tourist bus or domestic flight to the location that they want to go to. The majority of visitors to Joburg itself come here for business purposes. Tourists should not dismiss Johannesburg as this vibrant city has a great deal to offer. The value of the rand has dropped immensely, making a visit to Joburg, great value for money.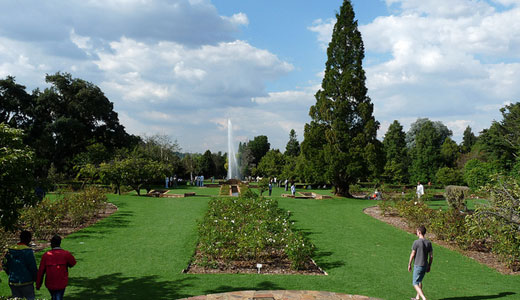 Fun Outdoors
If you enjoy the outdoors and tranquillity we have lovely parks in Johannesburg:
·
Emmerentia Park has a little dam with a canoe club. If you enquire at the club they will hire you a canoe for a few hours. There is a lovely botanical garden. The walks and cycling trails are spectacular. For safety purposes, as many of the trails are secluded, only go on these trails with a large group or on weekends when there are many people around. There is a large open area for picnicking as well. (Entrance is free)
·
Delta Park has one average children's play area with a swing, slide etc and then on the other side it has a very large play gym for children. This is one of the favourite places for families to go as they can picnic while their children play in a safe environment. There is a bird observatory in Delta Park with observation seats. There are three large ponds at Delta Park and it is lovely to observe the ducks swimming in them. Delta Park also has free disc golf courses. The maps can be downloaded from SA Disc Golf. (Entrance is free) This park does not have many secluded areas so it is fine to go to any time of the week.
·
Roodepoort Botanical Gardens is nestled between hills. There is a spectacular waterfall and there are a few rather strenuous hiking trails that you can take. The rules in this park are strict; you may not bring any balls or Frisbees. The fauna and flora is protected so any damage to plants will result in a hefty fine. (There is an entrance fee but it is not very expensive). This park's security is good and you can go to
it anytime of the week.
On the outskirts of Johannesburg, in an area called Muldersdrift, is the Rhino and Lion Park. If you arrive at the right time you can view the lions being fed. There are various buck, zebras, white lions, lions, cheetah, hyenas and rhino in this park. Many people enjoy going to the Rhino Park with a 4-wheel drive vehicle as there are tracks specifically for 4-wheel drive.
Johannesburg has an orienteering club and they meet at least once a month in loving outdoor hiking venues for a fun few hours of orienteering. Beginners are welcome and there is always an easy trail for the not too experienced. The hiking club meets most weekends and also takes beginners on easier hikes.
Not too far out of Johannesburg is a large dam called Hartebeesport dam. There is accommodation and
camping. Visitors to Hartebeespoort dam can also visit the aquarium and the weekend flea market. There is a lunch cruise that takes guests out into the dam and serves a full course lunch. If you enjoy skiing, windsurfing or riding on powerboats, Hartebeesportdam is the place to go.
Johannesburg zoo has a large variety of animals and even offers night trips.
Monte Casino has a large bird park while the birds are caged the cages are extremely large and the variety of species is astounding.
Maropeng also in the outskirts of Johannesburg shows the origins of mankind.
Day Tours
Joburg inner city and parts of Soweto are not safe to go to on your own. Only go to these areas on tours.
A recent budget friendly addition to day tours is Joburg's own red Hop on Hop off bus which can be combined with a taxi tour to Soweto. The hop on hop off bus allows you to tour the city at your own pace.
The starting point for the hop on hop off is Park Station (which is also a stop off point for the Gautrain), which provides safe and secure parking. The stop points are:
·
Ghandi Square
·
Carlton Centre
·
Santarama Miniland
·
James Hall transport museum
·
Gold reef city
·
Apartheid museum
·
Mining District walk
·
Newtown
·
Origins Centre at Wits
·
Braamfontein
·
Constitution hill
Our city was built because of the discovery of Gold, if you visit Gold reef city be sure to book a gold mine tour. Johannesburg also has the Gautrain now which allows people a secure trip to the airport and a quick traffic free way of visiting Pretoria, Joburgs neighbouring city. Many people take a trip on a Sunday from Johannesburg to Pretoria with the Gautrain have lunch in Pretoria and return again.
Night Life
Security is an issue in Johannesburg so it is always best to check that where you are going at night is safe.
Although the inner city is infamous for being dangerous, large parts have been rebuilt and now have trendy night clubs that young people like to go to, especially in the areas Braamfontein and Newtown. Whether you enjoy rock, jazz, hip hop, house or pop there is a night club that you will enjoy.
Coming soon to Johannesburg is the Nightbus, which will pass various nightclubs every 20 minutes allowing for secure and affordable travelling on your night out.
If you enjoy casinos, Johannesburg has many to offer such as Monte Casino, Emerald City, Gold Reef City, Silver Star and Carnival city. These casinos are not simply casinos but entertainment centres with restaurants, shops and children's play areas.
Dining
Dining in Johannesburg is a treat as there is a huge variety. Johannesburg is a cosmopolitan city so
people have settled here from all over the world. Meat is relatively cheap in South Africa so if you are a meat eater, you are in for a treat. For the best steak in our city The Grillhouse in Rosebank has been voted the best by locals for the past 3 years. If you visit Joburg and locals invite you to a braai (barbeque) you should definitely accept. Braais are an institution in our culture. We make salads, pap (fine mashed corn meel porridge), gravy (from tomatoes and onions) and boerewors (a minced beef sausage) and a variety of other meats.
Is It Safe To Travel to Johannesburg?
Sadly there is so much hype about our city being dangerous that I have heard of tourists who would did not leave their hotel rooms. Our city is not as dangerous as the media leads tourists to believe. It is best to get local tour guides to advise you as to which places should be avoided. Most South Africans are warm, friendly and helpful.
Recommended
My choice of top four places to visit are:
·
Maropeng to see the origins of mankind.
·
Gold reef city to go down a mine shaft and to see what started off this large city.
·
Apartheid museum to understand our cities history better.
·
Soweto tour to understand our cities culture.